Honeywell T6 Pro Programmable Thermostat | 7-Day, 5-2, 5-1-1 or Non-Programmable
Honeywell T6 Pro Programmable Thermostat | 7-Day, 5-2, 5-1-1 or Non-Programmable
TH6210U2001/U-HON
MFG #: TH6210U2001/U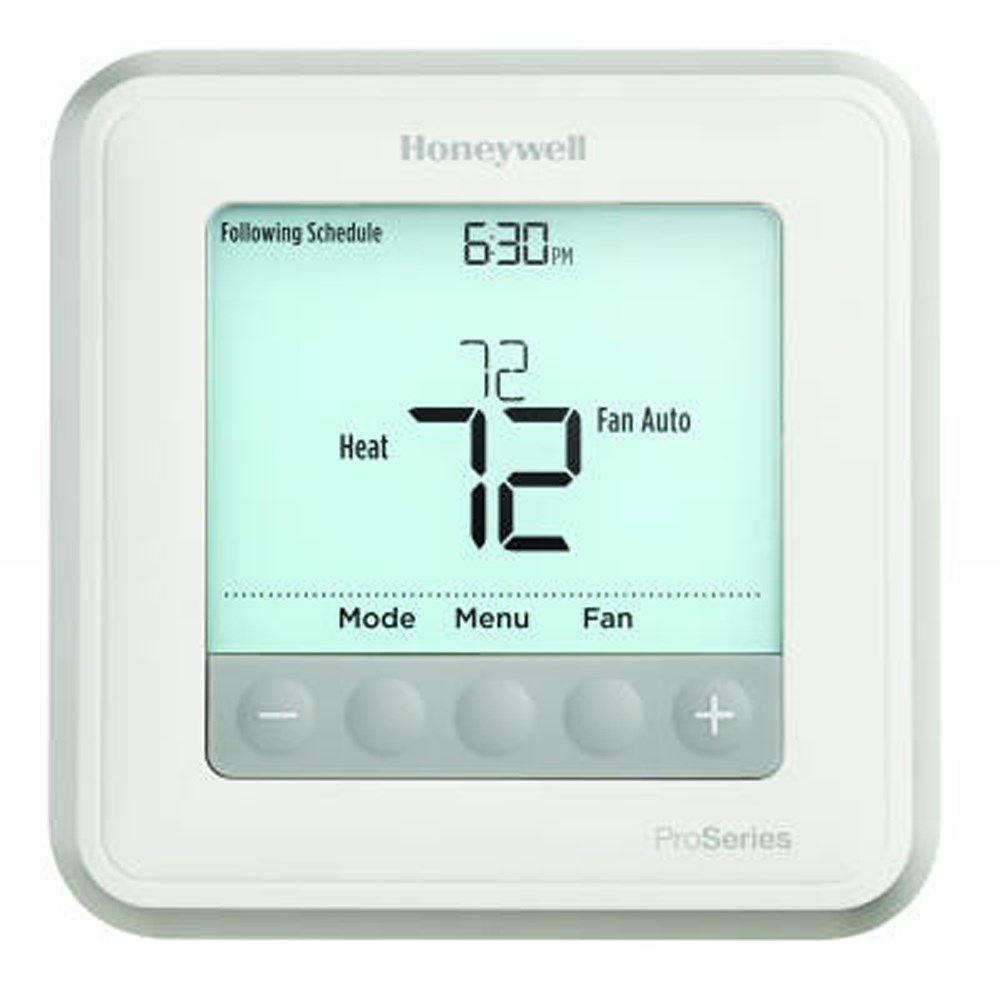 Availability:

1, 1+Alternate, 10, 10+Alternate, 11, 11+Alternate, 12, 12+Alternate, 14, 14+Alternate, 15+Alternate, 16, 16+Alternate, 17, 17+Alternate, 2, 2+Alternate, 3+Alternate, 4, 4+Alternate, 5, 5+Alternate, 6, 6+Alternate, 7, 7+Alternate, 8, 8+Alternate, 9, 9+Alternate, 903, 903+Alternate

Battery Included:

Yes

Battery Power Source:

(2) AA Batteries

Brand:

Honeywell

Changeover:

Auto or Manual

Display Size (Sq. In.):

5.44

Fan Switch Positions:

Auto-On-Circulate-Follow Schedule

Maximum Operating Temperature:

102 F (39 C)

Minimum Operating Temperature:

37 F (3 C)

Operating Humidity Range:

5 to 90% RH Non-Condensing

Overall Depth (In.):

1-3/32

Overall Length (In.):

4-1/16

Overall Width (In.):

4-1/16

Package Contents:

(1) Installation (J-box) Adaptor, (1) Installation Guide, (1) Small Decorative Cover Plate, Screws and Anchors, (1) User Guide, (2) AA Batteries, UWP Mounting System

System Switch Positions:

Heat-Off-Cool-Auto-Emergency Heat

Voltage:

20 to 30 VAC

Manufacturer:

Resideo Technologies Inc.

Thermostat Application:

Residential

Voltage:

24 V

Mounting Style:

Square

Power Source:

Battery or Hardwired

Program Type:

5-1-1 Day, 5-2 Day, 7 Day, Non-Programmable

Stages of Heat/Cool:

1 Heat/1 Cool Conv, 2 Heat/1 Cool HP

Colour:

White

Disclaimer:

For professional use only. Refer to all information, warnings and instructions on product and package labeling and accompanying documentation provided by the product manufacturer. Product must be used in accordance with such labeling and documentation.
T6 Pro Programmable Thermostat, 7-Day, 5-2, 5-1-1 or Non-Programmable, Auto or Manual Changeover, Large Display, Soft Key Controls