Fluke 116/323 HVAC Multimeter and Clamp Meter Combo Kit
Fluke 116/323 HVAC Multimeter and Clamp Meter Combo Kit
116/323-KIT-FLU
MFG #: 4296029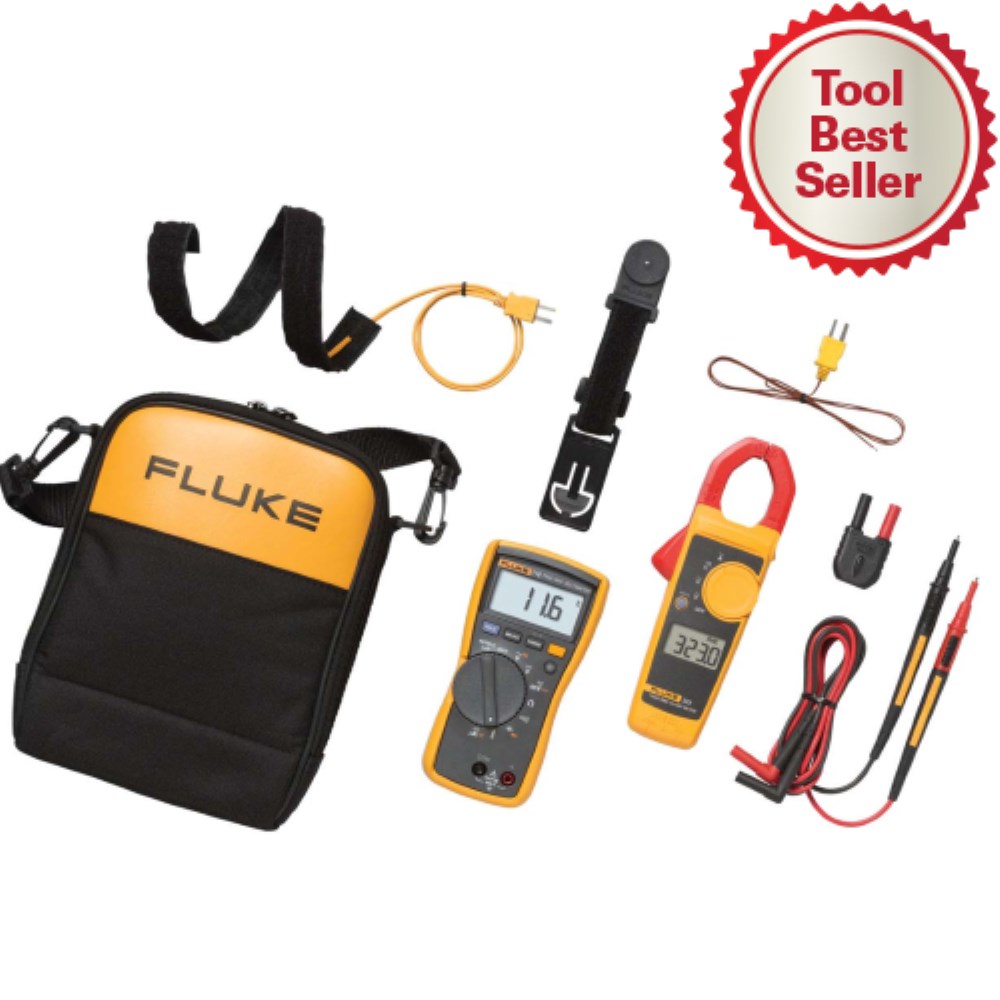 Availability:

1, 1+Alternate, 10, 10+Alternate, 11, 11+Alternate, 12, 12+Alternate, 14, 14+Alternate, 15, 15+Alternate, 16, 16+Alternate, 17, 17+Alternate, 2, 2+Alternate, 3, 3+Alternate, 4, 4+Alternate, 5, 5+Alternate, 6, 6+Alternate, 7, 7+Alternate, 8, 8+Alternate, 9, 9+Alternate, 903, 903+Alternate

Battery Included:

Yes

Battery Power Source:

(1) 9 V Battery

Brand:

Fluke

Ingress Protection (IP) Rating:

IP30, IP42

Manufacturer:

Fluke Electronics Canada, LP

Maximum Operating Altitude (m):

2000

Maximum Operating Temperature:

122 F (50 C)

Minimum Operating Temperature:

14 F (-10 C)

Net Weight (lbs):

1.78

Package Contents:

(1) 116 HVAC Multimeter, (1) 323 True RMS Clamp Meter, (1) 80AK-A Thermocouple Adapter, (1) 80BK Temperature Probe, (1) 9 V Battery, (1) C115 Soft Carry Case, (1) Flexible Pipe Clamp Thermocouple, (1) Pair of TL175 Test Leads, (1) TPAK Hanging Strap

Test Lead Connector Style:

Right Angle

Typical Battery Life (Hours):

400

Electrical Tester Product Type:

Holster and Hanging Accessories, Clamp Meters, Digital Multimeters, Probes and Probe Accessories, Test Leads

Measurement Capabilities:

AC/DC Current, AC/DC Voltage, Capacitance, Continuity, Microamps, Millivolts, Resistance, Temperature

Features:

Data Logger, True RMS

Ohm Range:

Greater Than 10,000

Electrical Safety Rating:

CAT III 600 V, CAT IV 300 V

Individual/Set:

Set

Disclaimer:

For professional use only. Refer to all information, warnings and instructions on product and package labeling and accompanying documentation provided by the product manufacturer. Product must be used in accordance with such labeling and documentation.
116/323 HVAC Combo Kit, Includes 116 Digital Multimeter and 323 True RMS Clamp Meter