Testo 310 Residential Combustion Analyzer Kit with Printer
Testo 310 Residential Combustion Analyzer Kit with Printer
0563-3110-01-TES
MFG #: 0563 3110 01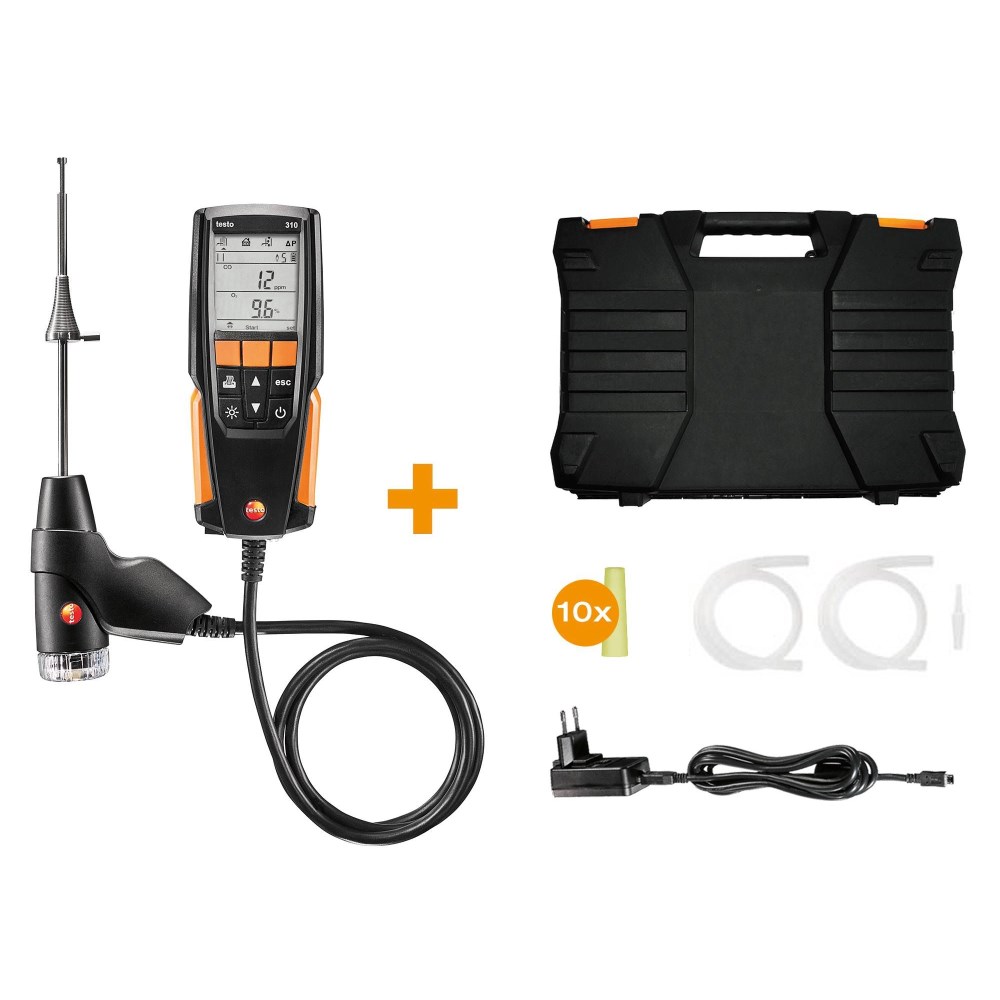 Availability:

1, 1+Alternate, 10, 10+Alternate, 11+Alternate, 12, 12+Alternate, 14, 14+Alternate, 15, 15+Alternate, 16+Alternate, 17, 17+Alternate, 2, 2+Alternate, 3, 3+Alternate, 4, 4+Alternate, 5, 5+Alternate, 6+Alternate, 7+Alternate, 8, 8+Alternate, 9, 9+Alternate, 903, 903+Alternate

Battery Power Source:

(1) 1500mAH Rechargeable Battery

Brand:

Testo

Maximum Operating Temperature:

113 F (45 C)

Minimum Operating Temperature:

23 F (-5 C)

Package Contents:

(1) 0554-3100 Printer, (1) AC Power Supply, (1) Case, (1) Hose, (1) Probe with Cone, (1) Rechargeable Battery, (1) Silicon Tubing, (2) Rolls of Thermal Paper, (5) Particulate Filters, (5) Pressure Plugs

Power Source:

Rechargeable Battery

Manufacturer:

Testo, Inc.

Gas Detection Tool Type:

Combustion Analyzers, Wireless Printers and Accessories

Gases Detected:

Carbon Monoxide (CO), Carbon Dioxide (CO2), Oxygen (O2)

Disclaimer:

For professional use only. Refer to all information, warnings and instructions on product and package labeling and accompanying documentation provided by the product manufacturer. Product must be used in accordance with such labeling and documentation.
The Testo 310 Residential Combustion Analyzer sets a new Standard in Reliable and Accurate Combustion Analysis with its Simple Design, Rugged Housing, and Advanced Sensor Technology.� With 5 Different Fuels to Choose from, it Provides the Flexibility you need for Applications like Checking�Furnace Efficiency,�Boiler Tuning, and Safety Checks