Milwaukee 2-5/8" 6 TPI HOLE DOZER Bi-Metal Hole Saw | 1 Pack
Milwaukee 2-5/8" 6 TPI HOLE DOZER Bi-Metal Hole Saw | 1 Pack
49-56-0158-MIL
MFG #: 49-56-0158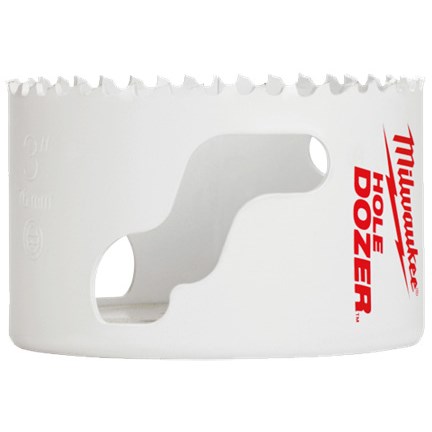 Availability:

1, 1+Alternate, 10, 10+Alternate, 11, 11+Alternate, 12, 12+Alternate, 14, 14+Alternate, 15, 15+Alternate, 16, 16+Alternate, 17, 17+Alternate, 2, 2+Alternate, 3+Alternate, 4, 4+Alternate, 5, 5+Alternate, 6, 6+Alternate, 7, 7+Alternate, 8, 8+Alternate, 9, 9+Alternate, 903, 903+Alternate

Body Material:

Bi-Metal

Chuck Size (In.):

3/8

Cutting Edge Material:

8% Cobalt

Depth of Cut (In.):

1-5/8

Overall Length (In.):

1-7/8

Suitable Material Application:

Aluminum, Cast Iron, Mild Steel, Stainless Steel

Manufacturer:

Milwaukee Electric Tool Corp.

Saw or Cutting Accessory Type:

Hole Saws

Hole Saw Diameter (In.):

2-5/8

Teeth per Inch (TPI):

6

Arbor Size (In.):

5/8

Individual/Set:

Individual

Material Application:

Aluminum, Iron, Steel

Disclaimer:

For professional use only. Refer to all information, warnings and instructions on product and package labeling and accompanying documentation provided by the product manufacturer. Product must be used in accordance with such labeling and documentation.
The 2-5/8" 6 TPI HOLE DOZER Bi-Metal Hole with 5/8"-18 Arbor and 3/8" Chuck is Backed by the Rip Guard Limited Lifetime Tooth Break Warranty. The Added Tooth Strength Along with 8% Cobalt Give Added Life to the Teeth, Increasing Productivity on the Jobsite